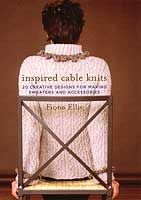 I'll start out by saying that I have a particular fondness for cables. The traditional styling, the celtic flavor.... I'm all over that. However, it is very often the case that the knitting patterns that utilize cables have a tendency to fail to live up to the promise of their design elements. The sweaters are, in a very real way
less
than the sum of their parts. Or, to be less tactful, they suck.
This is not the case with Fiona Ellis' new book
Inspired Cable Knits
.
It is very rare that I look through a new knitting book and find even two patterns that I would consider knitting. From this book I can think of four off the top of my head that I am seriously considering knitting (and here's the kicker) for myself. Yes, Ellis includes a size range from XS up to, in some cases, a 52" chest.
The very best part of the book though, is Ellis' commentary on the design process. The book is broken into four basic design concepts or inspirations: time, change, energy, and nature. Each design reflects in some way its parent category, with detailed descriptions of why she chose each element.
Each sweater is laden with symbolic meaning, what do the empty spaces represent? Why does the cable curve to the right rather than to the left? There is a language hidden within each sweater, a secret communication between the knitter and her project.
The concept of mindful, symbolic meaning within a project deeply appeals to me. I am inspired, much as the book's title promises, to not only create some of the sweaters held between the pages of the book, but also to deepen and enrich the intention hidden within my own designs.