So, my best
Jess
and I decided it was time to knit ourselves a sweater. A while back,
Knit Picks
had some of their
Wool of the Andes
on sale for $1.59 a ball. An auspicious time to undertake a project that (in my case....cuz I'm bigger) will take upwards of 15 balls of yarn. But what to knit?
I probably own, no lie, over fifty knitting books—and do I really need to count all of the magazines I have? Over the years I've seen scores of sweaters that I'd love to knit, would look great on me, or include a technique that just looks like it would be cool to learn. So, choosing a sweater to knit should be a piece of cake, non?
Non. Too many choices! Also, in the spirit of true -alongatude, we needed a pattern that Jess and I could both sport. For those of you who don't know us, Jess and I don't so very much have the same body type. I weigh an entire 2nd grader more than she does. We are the Amazon and the Pict. (We should have t-shirts or something.)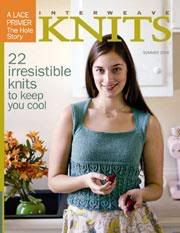 So, after a fair amount of ruminating...by which I mean "Whaddya want ta knit?" "Uh... I dunno?" We settled on Ann Budd's Cambridge Jacket from
Interweave Summer 2006
. We ceremoniously and with great fanfare dubbed it a Man Sweater Knitalong and commenced to ordering our yarn.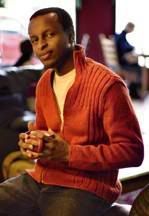 Jess went with Iron Ore (a pretty rusty red color) and I bought Blueberry (tealish). We both decided that in addition to making ourselves a sweater, we would try to move outside of our color comfort level a bit. As an interesting side note, the cardigan that Jess knit for the Olympics, which is her only adult sweater to-date, was a green with some blue to it. Meanwhile, I was knitting in nothing but cinnamon, brown, and red for MONTHS. Apparently she and I chose to move out of our own comfort levels.... and into each others. Go figure.
This sweater also has the advantage of a technique that neither of us has tried before: the sewn-in zipper. I am totally not counting "finishing a knitted sweater for myself" as a technique I've never tried before. I have knit my little people scads of sweaters....same technique, less staying power....or something.
Currently, my ManSweaterKnitalong-o-Meter is at approximately 25%. I'm less than an inch away from shaping for the armholes on the back. I've used nearly three balls of the 15 I ordered. I think I will have enough yarn, but that it will be close enough to make me sweat.
P.S. I really want to make the Icarus Shawl, from this same issue. I will, however, be re-christening it the "Daedalus Shawl" cuz dude.... do I really want my wings to melt from crashing into the sun, and then to plummet down into the sea and drown? Meanwhile Dad is circling around at a reasonable altitude saying "JEEZ! Why don't teenagers listen?" No thank you. Daedalus Shawl for me, please.