Earlier this week I posted on the projects that I have in progress (with the notable exceptions of the "rilly sekrit gift for someone who doesn't read this blog" which I cannot show pictures of for reasons that ought to be obvious, and of the green spring tank top that was at work the day I hornswaggled
Jess
' camera.)
So anyway, I digress. Frequently.
While I was out takin' pictures of my current and recently completed projects, I also took artistic, gardenish shots of the projects that I've lined up in my queue.
Here we have a project I'm pretty excited about. there are a lot of things about this little stripedy cardigan that I really like. (Oddly, one of the things I really like is also one of the things that I'm proposing to change....the color scheme).
What I don't like is the construction (seaming up ickle stripes doesn't sound like my idea of a good time), and the weird poofty ribbing thing around the bottom.
So, in an unpredented fit of ballsyness, I decided to revamp the pattern. The swatch there is my idea for a new color scheme. More details as I have them.
For Rhiannon's birthday, I intend to reprise the
Flower Basket Shawl
in another gauge. I'll be using
Knitpicks Palette in Fog
. I plan to up to size 9s or so, to make it nice and airy. I should swatch. Wouldn't that be craziness?
I must admit, I find it mildly disconcerting that I'm making such a "grown up" item for this daughter. Scroll up a second and look at the cardigan I'm about to make Morgan....when did Rhi grow up? Where was I when that happened? The sweater I'm knitting Morgan is more like what I'm making Rhi "ought" to be like, ya know? In that place inside my head where Rhiannon is still six?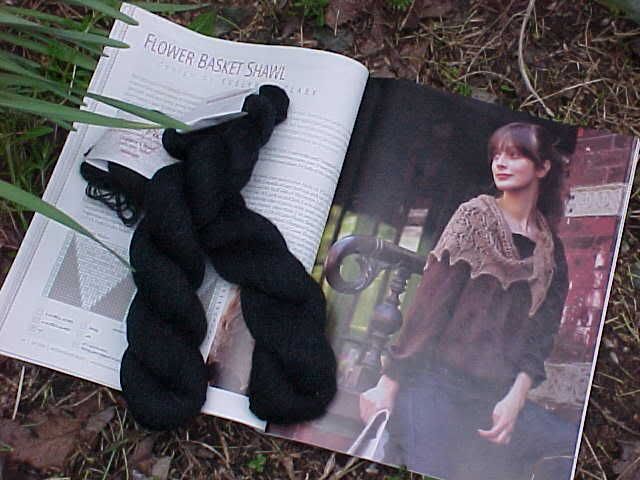 In other news, I've also got another Flower Basket Shawl lined up for a friend who is going to pay me actual pennies. (I'm excited.) I'll be using
Knitpicks Alpaca Cloud in Midnight
. I plan to use size 8s, or maybe 7s....we'll see how it goes. I'm looking for that balance between too airy and too small.