Its finished. Done. Kaput. Through. The End Times are upon us, and I finished the Ragnarok Shawl (formerly known as the 2nd Mystery Shawl).
I have to tell you, I'm glad I did it. I learned a lot, and its a lovely shawl. That said I will NEVER EVER NEVER (I feel very emphatic on this point) NEVER knit the thing again. When I grow up and design shawls they will not have three feet of cast off edge across the top. No indeedy.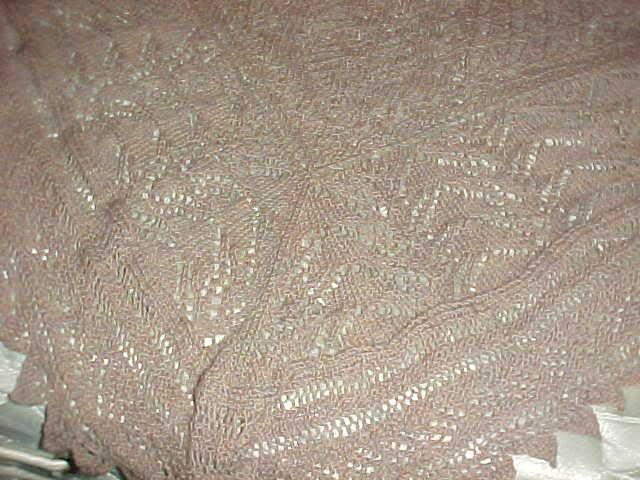 Here it is in its pre-blocked, just-off-the-needles, dental floss state. (Please to ignore the funky mattress under the shawl.)
And here it is a-blockin' -- And now that I look at the picture the left hand side is pinned a bit crooked, but I'm not going back to fix it now.
Project Specs:
Yarn: Knitpicks Shadow 100% Merino, Oregon Coast colorway, 1.65 hanks (approx. 700 yds.)

Needles: Addi Turbo circulars, size 7
Pattern: Mystery Shawl 2 by Renee

And the only reasonable response to finishing such a momentous and large project? Just a little bit of a
Flower Basket Shawl
. You know, just to take the edge off.