A grand time was had by all*
She is as funny, smart and adorable in person as she is on her blog.
My best
Jess
(who is now enjoying some fame and notoriety in the blogosphere) brought our beloved Harlot a lovely drawing of the reproductive parts of a butterfly,
Whosiheimerus somethingorotheri
. She (the Harlot) was delighted, and immediately began to practice her game face. She was making plans to show it to Joe and when he asked, nonchalantly answer, "Why Joe, it's the reproductive parts of a butterfly. Obviously." I think that she was, if I am using the word correctly, chuffed.
Anyways, I got my books signed (whee!) had my picture taken while we held each other's socks, and then went out for Sushi after.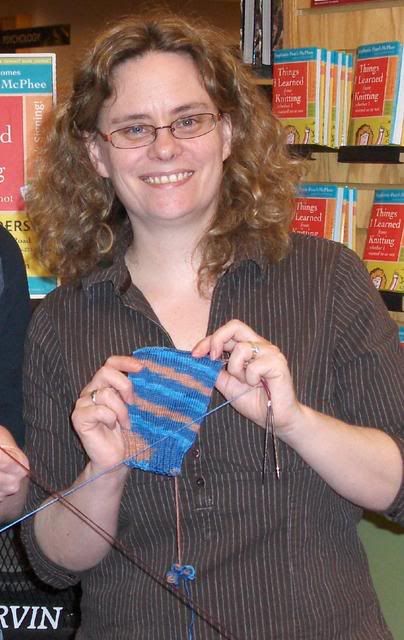 By the by, I cast on that sock that she's holding earlier that same morning. I have mad skillz. Just sayin'. And yes, I did crop myself out of that picture. It was a bad picture of me. Really.
Alot.
It is worth noting at this point that I hate Sushi. So, the fact that I ate four or five or six pieces off of everyone else's plates exclaiming "Damn, that was good!" should clearly be overlooked as aberrant behavior brought on by close proximity to her Harloty Self.
*In the spirit of full disclosure I feel that I should report that the grand time had by
Koren's
husband was spent in the Manga section ignoring the doings of knitters. But even so.