For my first major accomplishment of 2006, I knit "grown up lace"—Evelyn A. Clark's
Flower Basket Shawl
, initially published in Interweave Knit's Fall 2004 issue.
(For those keeping score, I also really want to knit the sweater on the front cover).
The shawl was knit from Knitpicks'
Shadow
in Campfire. It's a 100% merino wool laceweight yarn at an insanely affordable price. Something like $2.39 per 440 yard hank. I am absolutely in love with this yarn. On size 7 needles, it knit up into a gorgeous fabric that blocked like a dream. Oh yeah baby, will I knit more shawls outta this stuff. (I already have Oregon Coast lined up for the MS2, and have four skeins of Vineyard for I dunno know what yet.)
Now, on to the pictures!
Why this lace pattern is called "Flowerbasket" is beyond me. Looks more leafy-like, ya know?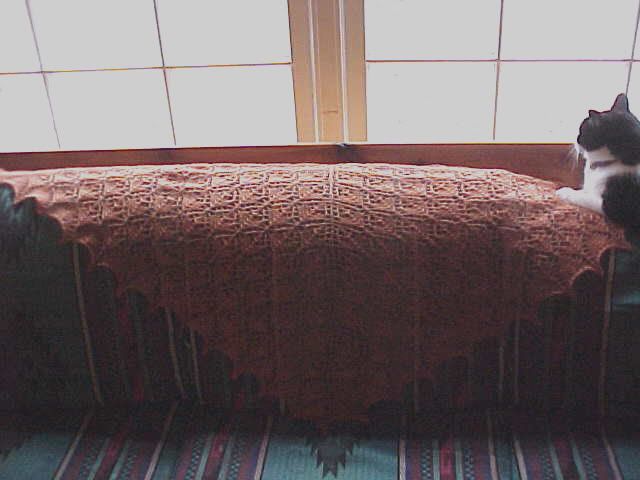 I call this shot "Shawl with Obligatory Cat"
Project Specs


Pattern: Flower Basket Shawl by Evelyn A. Clark. Published in IK F'04
Yarn: Knitpicks' Shadow "Campfire" 100% Merino Laceweight one 440 yd. hank
Needles: Addi Turbo size 7 24" circulars
Date begun: December 28, 2005
Date finished: January 7, 2006
Total cost for materials: $2.39

Go Me!