I have recently discovered that I really like knitting socks. I like it enough that I'm bound to get myself in trouble with it. (
6 Sox Knitalong
and
200Sox
spring to mind....)
I have Charlene Schurch's
Sensational Knitted Socks
and Nancy Bush's
Knitting Vintage Socks.
I haven't actually knitted anything out of the second yet, but I've heard nothing but good things about Nancy Bush. I have used Schurch's book, and I love it. It has instructions for 4 dpn, 5 dpn and 2 circular methods, side by side in a chart, and includes enough variations to keep you busy for the rest of your natural life. Its a book that encourages design, rather than a "recipe" book for socks. Bush's book is more the latter, but her recipes are so good, its hard to complain.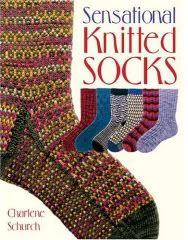 My first pair of "grown up" socks were knit from Schurch's book. I used the garter rib pattern with two size 2 circulars. The yarn is
Peter Pan Wendy
(a baby fingering yarn) and my only regret is that, at the end of the day, its acrylic. Its a lovely soft, ickle acrylic, but acrylic nae-the-less. So, they make better "wear in the house socks" than "wear in the tennis shoes" socks. In any case, they are pretty good lookin' if I do say so myself. (And I do).
I have also been working on socks for Rhiannon (who, at 11 has feet almost exactly the same size as mine). I've been designing PoA-style Ravenclaw socks for her. I'm not entirely happy with how they came out, but she seems pretty pleased. The yarn is Knitpicks'
Essential
in Navy and Ash. I used two size 2 circulars for the cuff and leg, and switched to size 1 dpns for the foot. If I had them to do over again, I'd do the whole sock in 1s. I like the fabric much better that way. They are finished save the toes—they turned out about 1/2 an inch too short, so I'm ripping back and doing the toes a second time.
(N.B. They aren't quite as squanchy in real life. They look funny because I'm holding the 16 live stitches at the top with 2 dpns.)