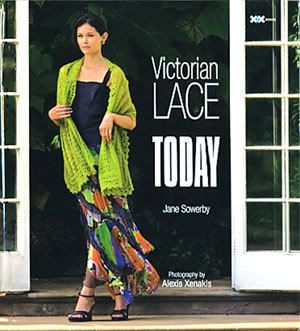 I know I'm a day late and a dollar short on this one, but I'm only just now getting around to buying this book.
I have to say, in the interest of being fair, that I am a bit prejudiced against XrX — I have never forgiven them for the sudden and horrific fugnation of Knitters magazine....so I was a little worried about this book. On the other hand, I have
Gathering of Lace
, and
Best of Knitters: Shawls and Scarves
(which is pretty alright, saving the very 1980s-ness of it).
Anyway, I needn't have worried. The book is gorgeously laid out, and I've already picked out a few projects that will be moving into my "must knit" list.
My very favorite part of the book, other than the photographs of course, is the historical information that Jane Sowerby provides. I love reading about the history of textiles and fiber arts, so the sections on the early pattern books is a nice treat.
I haven't checked KnittingUniverse.com for errata yet, so I'm not sure how it fairs on the technical accuracy front.