Knitpicks
, as the entire blogosphere is already well aware, is having a
clearance sale
. I am really ambivalent about this, because Hey! Sale!
440 yards of gorgeous merino lace weight
for a buck ninety-nine. But then on the other hand, discontinued colors. DISCONTINUED, people. This means no more ever.
EVER.
This means that I have to buy it all right now, because what if I want some later? Well, I won't be able to get it, will I? No, I will not. Because, discontinued.
So, long story... well, slightly less long, three buddies and I all went in together and bought a Giant Box O' Fiber Goodness.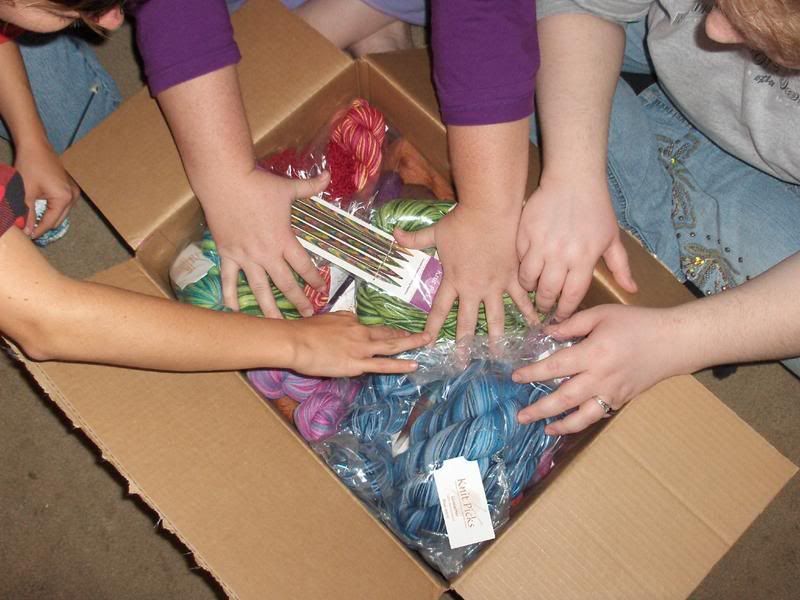 My personal haul?
1 Shine Sport Aquamarine
1 Shine Sport Coral
1 Shine Sport Crocus
4 Shadow Redwood Forest Heather
2 Shadow Grape Jelly Heather
2 Gossamer Caribbean
4 Gossamer Blue Jeans
2 Gossamer Sweet Peas
2 Gossamer Leprechaun
2 Gossamer Sunrise
When, in my whole life long, am I going to knit all this up?
WHEN?!?!?