This isn't really a post, I thought I'd just wave and mention that I'm still alive and I totally WON NANOWRIMO, hell yeah!

ahem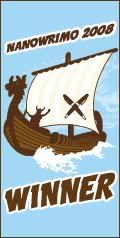 I have no dignity.
Anyway, I've started teaching myself crochet, and am going through what I like to call my "dishrag period." I've also started
The Clap
, because I can't figure out what else to do with all the variegated lace weight I bought when
Knitpicks
ditched their
Gossamer
line.
So, that's about all the news that's fit to print. I have not been working on any of my shawls, and I suddenly want to make a Noro Scarf (but I blame the Yarn Harlot for that.)