I finally finished the Toe-Up Dancing sock that has been languishing pre-heel for nearly 6 months. This is my first pair toe-up, and my first time using a short-row toe and heel. I definitely see that this technique has merit, but I'm gonna have to practice, cuz my first heel looks like poop on toast.
When I first started, I thought that I really didn't like the yarn. It kept twisting up on me, and the fabric felt weird. But when I tried it on, my opinion changed. I think I'm really gonna like these socks. The yarn is
Knitpicks Dancing
(now discontinued.) The colorway is ... uh ... lemme go look it up ... Square Dance, knit on two circular size 1 inox needles. I have biggly feet, so its a 72 stitch sock, and it fits perfectly. I will be making more toe-up socks in the future. Meanwhile, this sock will be joining Glad Raggs and my Eyelet sock in the back of the queue, waiting for March is for Making Mates. I have second sock syndrome bad, people.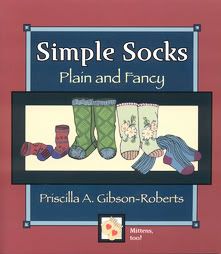 Speaking of toe-up socks, I just finished reading Priscilla Gibson -Roberts'
Si
mpl
e Socks Plain and Fancy.
I love this book — it has no patterns atall, its purely a technique book, with the cutest little black and white drawings for illustration. Her short-row technique uses yarn overs. The Dancing socks I'm knitting now use
Wendy's
wrap technique. I'm interested to try this, on the off-chance that I can execute it with more grace. I make no claims as to the superiority of one technique over the other, I'm just looking for one that I can make not look like a 4 year old knit it. (No offense to knitting 4 year olds intended.) I'll be using Wendy's method again on the second sock of the Dancing pair, and for that matter I had the flu when I knit the first one, so I'll make full comparative report once I have more data.
In other news Sprog's bib is now finished (because February is for Finishing, you know) save for the weaving in of ends and the placement of a button. I'm fairly certain that Sprog's mum doesn't read this blog, but if I'm wrong then... *waves* Hi Erin! Surprise!
I based this off of the bib pattern in
Mason-Dixon Knitting:
The Curious Knitter's
Guide
. For the record, I love that book. The yarn is Sugar n' Cream, size 7
Knitpicks Options
needles. (Got the set
for Christmas! Whee!)
I used a basket-weave texture stitch on the body of the bib, and did the straps in garter-stitch. Easy-peasy. Here's a close-up of the body.
And, in keeping with the color-scheme — I swear I didn't plan this — I've also finished up a baby blanket for a co-worker who's pregnant. I used
Lion Brand Homespun
and size 11 Knitpicks options needles. I made the pattern up as I went, and if I were ever inspired to try it again I'd do things a bit differently. I used a simple feather and fan stitch, but I didn't add enough repeats. If I were to do this again, I'd either double-strand the yarn or scale down the needle size, and I'd add at least one more repeat. I added a double crochet edging to the side to widen it a bit (and to disguise where I stranded the yarn along the right hand side. All in all I'm not ashamed to give it away, but it's not the very most awe-inspiring thing I've ever knit.
Next friend who gets pregnant is getting booties.